Fishery Investigation and Support Team 
If you see or suspect any foul play concerning otters, please call us and give details! Just because we don't see it does not mean it's not happening so look out around lakes, rivers and water courses for anything that you think may be out of place. We have made many visits to places with the police and removed suspect items such as traps, nets etc over the past year with another visit to a lucky fishery planned for next week! We are making a difference and it's also about educating that things should and can be done legally. Email us: otters@ukwot.org or call us: 07866 462820 to make that difference!
FISHERY SUPPORT & FENCING/GARDEN POND PROTECTION GUIDES
Here at UKWOT, we take otter predation very seriously. We want to do our bit to help and support those affected and as such we have produced a helpful but comprehensive fencing guide for all to use/implement FOC. This guide has been produced from hours spent watching, monitoring otters, and visiting fisheries that are fenced. We want to educate that fencing should not be seen as an expensive option but rather an important part of essential business plans. Many of the fencing specs around are not 100% effective and we often see 45 degree outward overhangs as an example – an otter will climb that at ease!
From our studies, we have found that 90% of issues with predation at fenced waters are because of poor maintenance of very expensive fence constructions, but this need not be the case. It is SO important that once the fence is up, that you walk it every day to check for other species digging such as rabbits, badgers etc as otters will exploit any weakness in the fence and possibly gain entrance. We hope that the guides will help you and we are always available to talk through or even visit your sites to give impartial, free but effective advice to help you to protect your valuable assets.
Remember, we are here to help and we NEVER charge for this service!
We can be contacted on 07866 462820 or 01769 580621. Email: otters@ukwot.org
Dave Webb – Founder, Chair, And Registered Trustee
Dave has been a wildlife conservationist for over 40 years, with a keen interest in wildlife photography and a specialism in deer species and otters. He sits on the board of the otter welfare advisory group, is a senior board member and fishery advisor for the otter predation & advisory group, and is a full member of the IUCN otter specialist group. He has written a book, appeared on TV, and featured on Countryfile in connection with the recent humane trapping licence issued from Natural England: a ground-breaking step forward that will change the face of otter conservation as we know it, and one that Dave played a hugely important role in securing. His passion is unrivalled – and this is obvious in the many presentations he does about otters!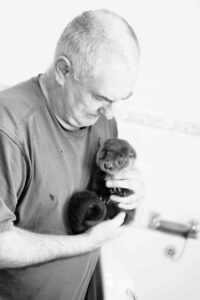 Joss Faulkner – Fishery Advisor
Joss joins us with a practical, common-sense approach to otter conservation and fishery management. Working in the training sector, he also owns a non-profit-making historical estate lake in Northamptonshire, and has previously worked with the predation action group. Joss currently holds the position of fishery advisor to the Trust, and brings a wealth of practical experience to the team.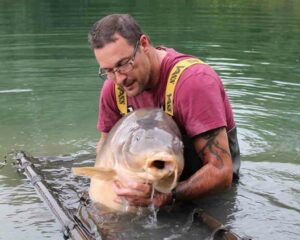 Mark Walsingham – Fishery Advisor
Mark joins the team as fishery advisor and, along with Dave and Joss, played a key role in securing the Natural England CL36 licence to humanely trap otters – an achievement that took over two years to secure. He used to own the famous Ashmead lake in deepest Somerset, making him well-versed on otter predation and fishery management, and a key member of the team.